If you're looking for an RV that offers tons of recreational activities in Rociada, Canoncito, San Miguel County, Sapello, or Cowles, NM, look no further than Pendaries RV Resort! We're centrally located to numerous nearby attractions, whether you're looking to hit the links to golf 18 or you want to immerse yourself in the local wilderness.
Our Activities
Our park is your gateway to the natural world around you. Go for a walk on one of the dozens of nearby hiking trails or grab your fishing pole and get ready to reel in at a catch at the local lake! We're proud to be regarded as a premier destination for hiking and recreational fishing in Rociada, NM. Some of our recreational activities include: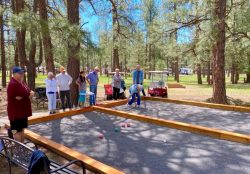 Bocce Ball
Scenic mountain hiking trails around the Pecos
Hiking to Turquois Mine from the RV park
Disc golf, horseshoes, shuffleboard and other clubhouse activities
Just want to spend some quality time relaxing? No problem! The peaceful atmosphere at Pendaries RV Resort is perfect for when you just want to relax.
Nearby Activities
Want to get out of the park and explore a little bit? Take yourself on a local adventure and visit any of the numerous nearby attractions. Traveling by car, you'll find plenty to do just 15, 20 or 25 minutes away! Some of the popular nearby attractions include: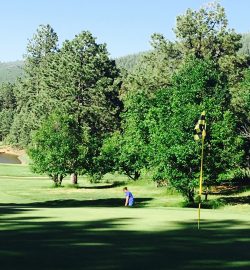 The cities of Las Vegas, Taos and Santa Fe
Mountain Lake, Morphy Lake State Park (15 minutes)
Storrie Lake State Park (25 minutes)
Shop for a custom belt at Chacon belts (located next door)
If you're looking for enjoyable ways to spend your time while you're vacation camping with us, don't hesitate to ask about our recreational fishing and other options! We've been stewards of the area since 1985 and we know our way around the nearby areas. We're happy to make recommendations and will go out of our way to make sure you have a great time. Stop by and speak with us today or contact us at 505-454-8304.